April 21, 2021 · Capital Electra X · Electrical CAD
Upgraded Benefits for Electra Cloud, Your Favorite Electrical CAD Software
We are now part of Siemens' family. Electra Cloud is now Capital Electra X and Electra E9 is now Capital Electra 2210.
On a daily basis, we are working really hard to improve Electra Cloud, and we're elated to bring you a bunch of updates to your favourite electrical CAD software, this April 2021.
Google integration for centralized project workspace
We have always designed Electra to offer the best of Cloud computing, and now, you can create spreadsheets, documents, presentations in addition to electrical drawings all inside Electra's dashboard.
Our vision is to have Electra Cloud becoming the central workplace for all your engineering needs, where you can create specifications, documentations, cost calculations, engineering drawings, and everything you need to ensure your project is successful and all stakeholders are easily kept informed.
This Google integration will allow you to store everything in a central location, where you know exactly where everything is, and be able to access these critical resources anywhere with any device, thus lowering your IT cost and improving your bottom line.
Ability to draw Piping and Instrumentation Diagrams (P&ID)
Also added in the Professional and Electra E9 editions of Electra Cloud, the ability to draw P&IDs.
As per your expectation, included in P&ID are all the goodies you would come to expect from Electra Cloud, such as automated numbering, generating reports, bills of materials (BOM) and all the automation tools you would like to have when creating schematics.
If we've missed out anything, like any feature that could make drawing your P&ID more efficient, do let us know!
Improved printing and page selection
It used to be, you could only print a single page using the browser's print function. We have now updated Electra Cloud to be able to print multiple pages, allowing you to select which page you need to print, all using the browser's native print command.
This allows you to set margins, and select a range of pages to print, offering much needed flexibility and functionality.
Enhanced speed for the PDF generation
You can create beautiful diagrams in Electra but the ability to print them in high resolution is equally important.
Recently we updated Electra to be able to print PDF in high resolution, using native PDF vector graphics, so you get a PDF that will print very well even with high resolution.
However, our first attempt resulted in printing our sample document in about over a minute. This was too slow for our liking, hence, we have worked hard to optimize this down to 7.5 seconds.
Built in image compression
When you drop an image into your drawing, Electra will now automatically compress your image without sacrificing the quality, so that your drawing will load faster when you open them.
On average, your image will be 60-80% smaller in size, resulting is much faster uploads and download speeds, which means all your drawings will now load faster.
Compressed stencils that will load 80% faster
Have you noticed that your stencils will now load faster? Behind the scenes, we already cached your stencils, so that they will load quickly. Also, since we added Brotli compression, these stencils are further compressed up to 80-90% smaller, resulting in much faster loading time.
Built in spelling checker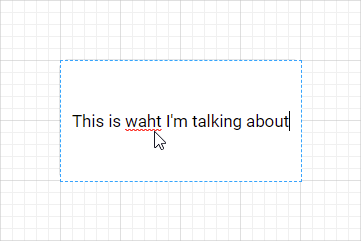 When you insert texts into a drawing, Electra will now highlight misspelled words, and you can correct the word by selecting the word and right clicking, as shown below: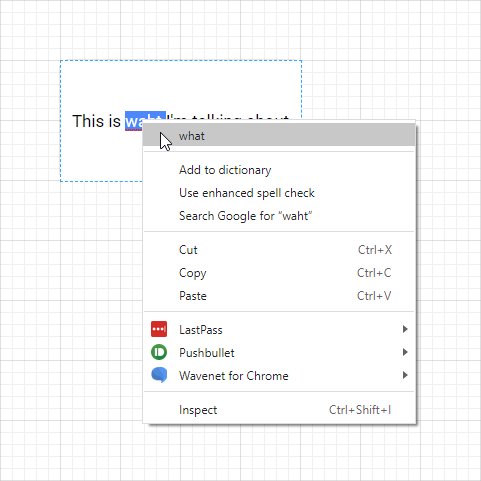 These corrections use the default browser correction tool built into your browser. Hence, if you add a word into your personal dictionary, they will persist and sync to all your accounts, allowing you to use the same dictionary on any device.
Sub text formatting
Previously, you can only style text blocks separately, but were not able to style words in different styles inside a single text block. Well, not anymore, as you can now style words and characters to any format of your choice.
This opens up a myriad of possibilities, and helps to ensure that all your diagrams are styled beautifully.
Ability to add jumpers
We have also added the ability to add jumpers to wires, or more accurately, to mark wires as jumpers.
To add jumpers, drop a wire and connect two terminal symbols, then select the wire and click on Tools | Set wires to jumpers.
Once added, when you generate terminal listing, a jumper is automatically generated at your terminal listing.
That's all from me for now. Do look out for more updates from us in the near future.