July 06, 2021 · Capital Electra X · Electrical CAD
7 New Improvements in Electra to Increase Your Productivity
We are now part of Siemens' family. Electra Cloud is now Capital Electra X and Electra E9 is now Capital Electra 2210.
To constantly improve our beloved electrical CAD software, we at Siemens Industry Software Sdn. Bhd. are pushing the limits to be as productive as ever. Here's a rundown on new features and tools that you'll love in Electra. Read on to see what's new!
Distribute shapes horizontally and vertically
First, we added a new feature that enables you to distribute the space between shapes evenly, horizontally and vertically. Just click on the 'Aligned selected shapes' icon on your toolbar, then choose 'Distribute horizontally' or 'Distribute vertically' and the tool will divide the space accurately for you.
Sub panel
Next, another brand new feature is the ability to add and generate sub panels. You may have specific sub panels in your wiring diagram to differentiate from the main panel. Hence, this feature allows you to generate the layout you need for that specific sub panel.
To divide your circuits into sub panels, just drag and drop the sub panel symbol onto your drawing and drag the handles to encapsulate your circuits, as below:
Symbols within the sub panel will be renamed with panel prefix.
Learn more about sub panels here.
Colour fill and rounded corners for text block
We made some awesome changes to the text block. Previously, when you position a text block on top of an object, the text overlaps with the object, and makes it difficult to be read. With the new colour fill feature, you can fill colours in the text blocks so that the text can be read easily. In addition to that, you may now apply rounded corners to your text blocks aside from the default sharp corners.
Search box for plugins
When there are many plugins, it can be tedious to scroll through the panel and find what you need. Now, you can simply search for the plugins you need at the newly added Plugins search box. The function will automatically show the selected plugin.
Component Database UI changes
Apart from that, we have also further improved our component database's interface. Now, the left side contains the components' categories while the right side is where you can view and edit them. When you hover over the component categories, there's a kebab menu for you to directly choose whether you need to add, edit or delete a category. Have a look at the updated component database: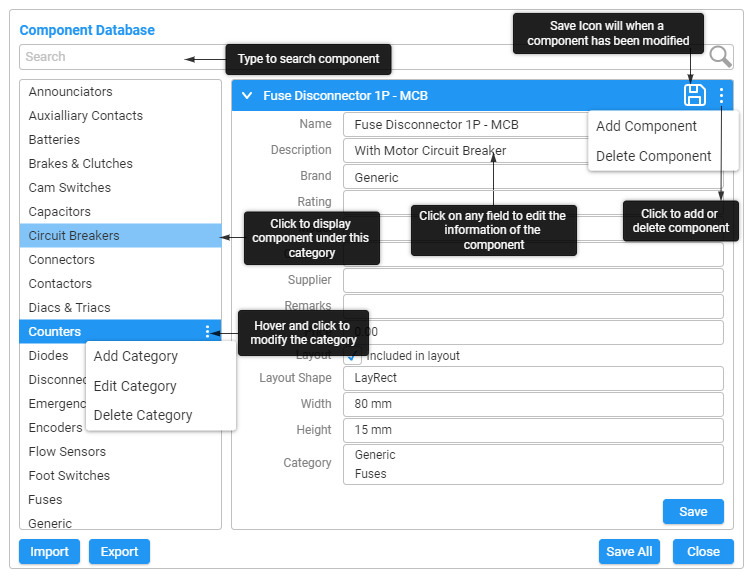 More about the component database here.
Customize stencil view
That's not all, you can now adjust the view of the stencils according to your preferences. Select the hamburger menu on the stencil panel, select 'Stencil view' and change the amount of columns you want in the panel. This function allows you to have control on your stencil bar's interface.
Export multi page plugin
Now you can export multiple pages of your diagrams in SVG, under one file. The export allows you to create a slider for easy presentation and embedding on your website, and it also includes the page numbers at the bottom. At the pop up window, you may choose the slider mode, slide speed and set the delay duration for the auto slider. You may also choose if you need buttons to control the slider.
We love improving Electra into becoming the best electrical CAD software today, and forever. Hope the above updates could be of great help to you and your organization.
If you need additional information on our features feel free to visit our benefits page and help page.
Thanks for reading!